bird mesh manufacrure could customize the size.
Time:2019-08-16
Views:294
Birdsong forest is a large outdoor ecological bird garden with natural ecological environment as its core, which integrates green plants, birds, visitors, houses and trees.
The construction of birdsong forest protection net mainly adopts stainless steel rope net, which is suitable for all kinds of birdsong forest net, birdsong forest fence net and birdsong forest safety isolation net.Baina has a variety of specifications and models, welcome to call you at any time.
Bird talk forest is a gathering place for more than one hundred kinds of birds, mainly including ornamental birds such as peacocks, flamingos, red-crowned cranes, parrots, caraginas and crested ibis. Visitors can enjoy a tour of the park, interact with birds, and enjoy the fun of birds around their feet and flying overhead.More and more bird's songs are built in various sightseeing parks, farms, scenic spots, enterprises and public institutions, parent-child parks and other fields.Birdsong forest is generally composed of the surrounding side fence and sky net, like a yurt, built in the park houses, trees, rockery, pond, etc., is a miniature ecological landscape.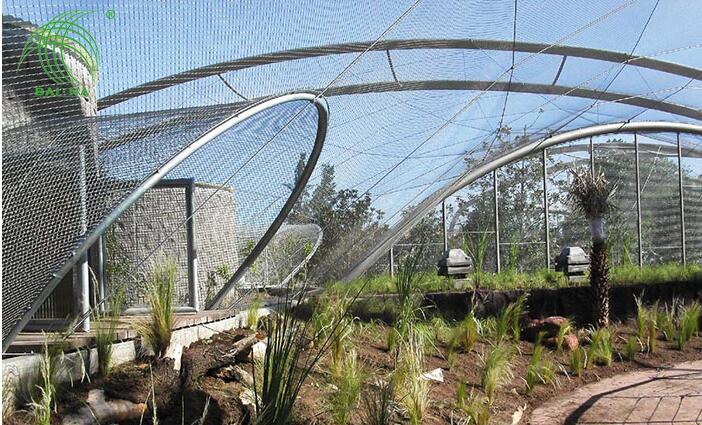 Bird garden protection net, bird language forest net manufacturers can customize the size.
Network world of birds
Bird's speech forest net, bird's speech forest enclosure net, bird's speech forest safety isolation net, peacock enclosure net, flamingo cage net, red-crowned crane cage net, golden rooster cage, red ibis enclosure net.
Specification of stainless steel rope mesh used in bird's nest:
Mesh block specifications: the specifications of finished mesh blocks are generally 4m×4m, 4m×2m, 5m×3m, 5m×4m, 5m×5m, 5m×6m. You can also adjust the mesh block size according to the design requirements.
Mesh specifications: according to the use of the diamond mesh side length is generally 300,250,200,150,120,100 mm.
Mesh edge length error is not 20mm.Its superior combination of flexible strength and ductile strength makes its application especially extensive, such as zoo protection, bird's nest fence, bird's nest fence and so on
Bird's nest fence, stainless steel wire mesh, bird's nest protection net will choose baina manufacturers.Wholesale prices, let you save money;Brand quality, let you worry.Welcome to consult!