metal ring mesh character
Time:2019-04-09
Views:869
The metal ring net and its decoration method belong to the field of daily life appliances, especially in the field of furniture decoration. The metal ring net is mainly made of metal
materials, various geometric shapes, special-shaped three-dimensional or flat products, and the method of decorating articles such as wood furniture by using the product, and has a
rich and beautiful, elegant appearance, luxurious and elegant. It has the advantages of high ornamental value and applicable value, simple structure, easy production and low cost.
As a metal decorative member, it is characterized in that it comprises various geometric shapes and shaped three-dimensional or planar side products made of a metal material.
According to the metal decorative member described, it is characterized in that. Three-dimensional or flat products of various geometric shapes include triangular, right-angled,
half-circular cylindrical, multi-directional right-angled, T-shaped, shaped, spherical, square, etc., and various shapes suitable for wooden folding or other decorative objects. .
The decorative surface of the metal ring net can be made into various patterns such as flowers, worms, animals, birds, etc., and the pattern or pattern can be three-dimensional
or flat.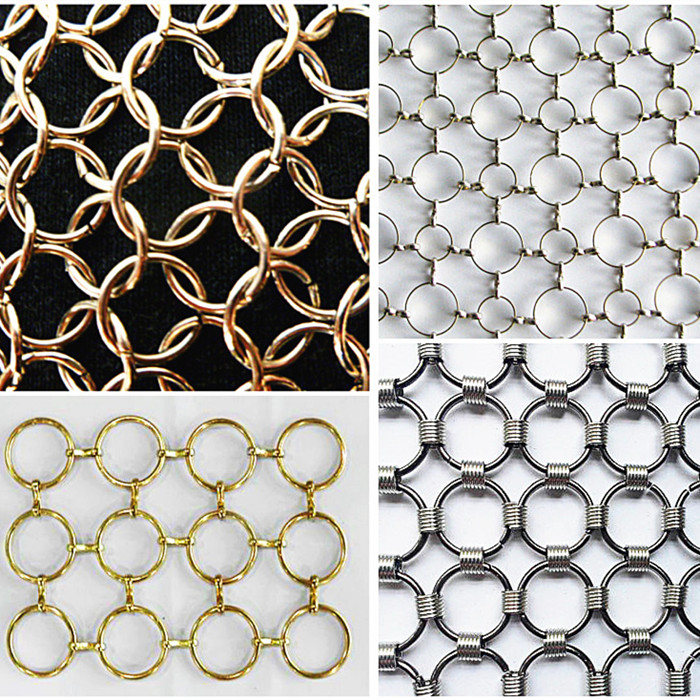 Baina wire mesh manufacturing co., ltd. is located in hebei, China, is specialized in the production of architectural decoration network, metal woven network, building curtain wall
network, metal curtain, art network, metal ring network manufacturers.Baina wire mesh manufacturing co., LTD. "to the quality of production, reputation and development", I would
like to plant high quality products, solid reputation, preferential prices, build us a common brilliant bridge!