metal wall curtain anti-rust beatiful and wide application
Time:2019-04-04
Views:899
The color of the surface of the metal curtain wall net is improved: for the metal curtain wall net of small zinc flower and zinc-free flower, the metal curtain wall decorative net can obtain a more uniform surface with gloss. For some manufacturers of automotive filter cores, the use of galvanized punching and coiling products as a processing favorite, can make the zinc flower bumps and different gloss formed by the large zinc flower crystallized and unified, so that the zinc flower becomes It is ambiguous and helps to cover the zinc flower during painting.
The metal curtain wall decorative net has excellent waterproof, anti-fouling and anti-corrosion performance, which ensures the long-lasting surface of the building. Processing, transportation, installation and construction are all relatively easy to construct. Provide strong support for its widespread use. The diversity of colors and the ability to combine them into different appearance shapes. Expanded the design space of architects. Therefore, the curtain wall aluminum mesh is currently favored as an impactful architectural form. The metal curtain wall decoration net is widely used and universal, and can be made into various concave and convex shapes to form a curve. The diversity of colors brings a vivid color to the environment and gives a pleasing architectural effect. Adding endless charm to the modern city. The application of metal curtain wall mesh is currently widely compared with high-end hotel clubs, museums, juvenile cultural palaces, school libraries, airports, as well as high-end office buildings, cultural centers, flagship stores of high-end famous products.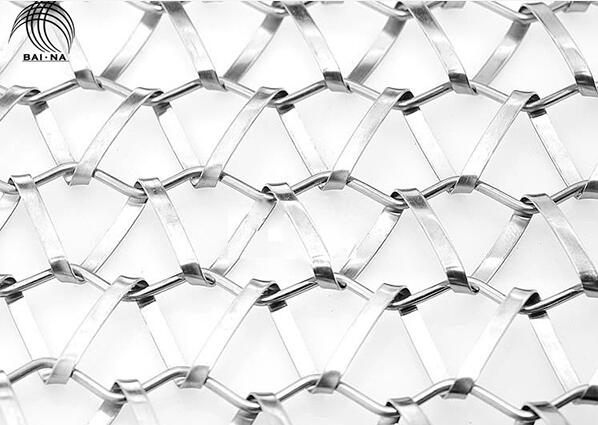 Baina wire mesh manufacturing co., ltd. is located in hebei, China, is specialized in the production of architectural decoration mesh, metal woven mesh, building curtain wall mesh, metal mesh curtain, art mesh manufacturers.