The celebration of 6th anniversary of baina establishment
Time:2019-05-09
Views:894
On the occasion of the 6th anniversary of the establishment of Baina Metal Wire Mesh Co., Ltd., the special price reduction activities were held, and the boss said that the money was also sold!
Baina stainless steel rope net is made of high-quality stainless steel wire rope, which is specially designed and twisted. It is widely used in animal cages, bird nets, animal fences and garden decoration protection construction in wild zoos, zoos, marine parks and other similar environments. It is a high-end, professional zoo-specific network. In addition, the products are also suitable for sports, acrobatics, architectural decoration, bridge and scenic area protection and decoration, municipal construction and many other fields. We are willing to explore and innovate with the products of the sleek products, the quality of artisans, and the perfect service, and cooperate with the community to seek common development.
At the beginning of the factory construction, all of our products were underwritten by foreign distributors in North America, Western Europe and Oceania. The products were well received by the major design departments and garden users, and enjoyed a high reputation in the market.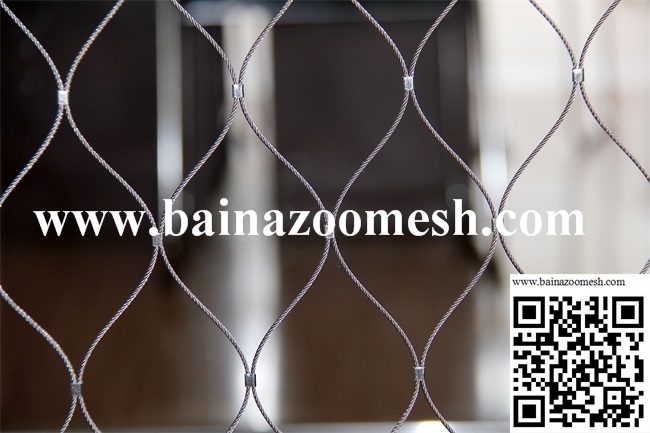 In order to achieve the "0" distance between customers and factories, Baoding Baina Wire Mesh Co., Ltd. has opened two domestic and foreign trade platforms: Alibaba.com and Export. After years of development, our factory has won three national patents with its professional production technology, rich production experience and advanced production technology. The products are sold at home and abroad, and are highly praised by many domestic customers such as Hong Kong, Beijing, Shenyang, Nanjing, etc., and are favored by overseas customers such as Italy, Germany, the United States, Japan, and South Korea.
Don't look at the company's six years since its establishment. His manufacturer has a history of more than 30 years, with exquisite workmanship and skilled skills. Quality assurance, customer first. The price is close to the people, the service is thoughtful, I really can't imagine that there are such perfect manufacturers in the world. Hi big rush, price cut! Price reduction! Price reduction! The important thing is said three times, the customers who are watching are blessed, and the owner of Baina has tears to cut prices, not to make money, but to promote. Customers refer to the introduction of rewards, and enjoy a huge discount on the second order. The boss squatted this time, and lost money to sell, just like this!