discountable hot selling animal fence net
Time:2019-07-22
Views:204
Stainless steel wire rope network processing process is manual processing, the first step is to collect raw materials, is to buy stainless steel wire, the wire according to customer requirements, can be 304.316.316l and some super alloy.
The second step to purchase raw materials began to cut the stainless steel wire, only after cutting can be used for the weaving of stainless steel wire rope network.
The third part is to order accessories.
This process is usually synchronized with the first step of purchasing steel wire.
Beautiful and transparent, close to nature, green environmental protection;
It can give the animals a sense of unrestrained space and give visitors a good view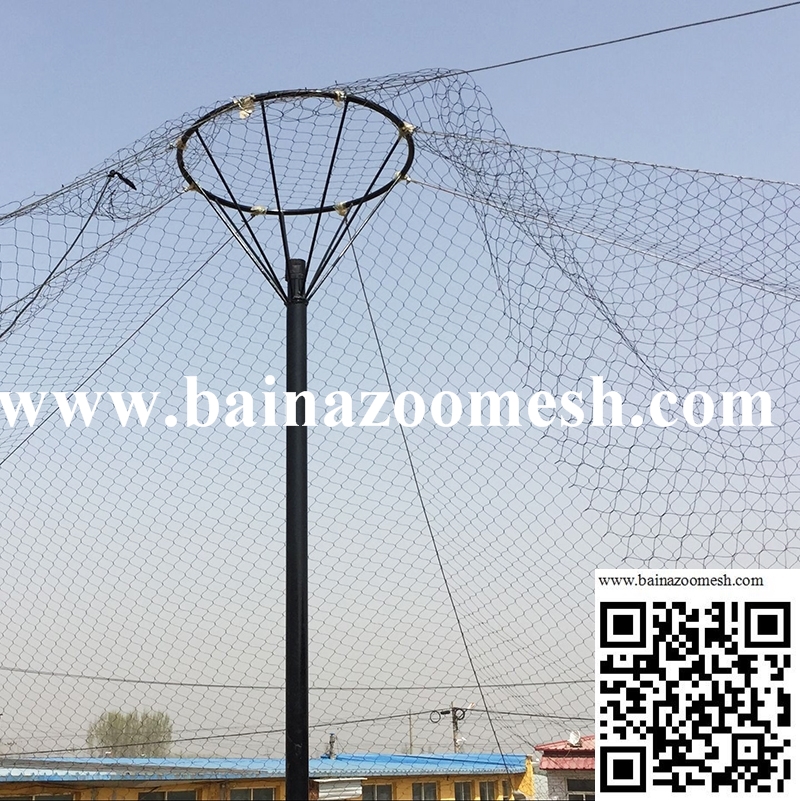 Advantages of stainless steel wire mesh for bird cage:
(1) lightweight, high strength, never rust, good softness, strong buffer, fatigue resistance, impact resistance, large breaking force, solid and durable overall structure.Convenient construction, simple installation, suitable for any environmental conditions.
Gs-8000 pressure reducing ring for middle 12 and middle 14 steel wire ropes, gs-8001 pressure reducing ring for 16mm and 18mm steel wire ropes.The energy absorption capacity of gs-8000 and gs-8001 pressure-reducing ring should not be lower than 30KJ and 50KJ, respectively, and the starting load should be between 10% and 70% of the breaking tension of the connected wire rope network. The rope clip should be set about 40cm from the pressure-reducing ring to combine the two support ropes, and the tightening degree of the rope clip should be 30% of the standard tightening degree.Convenient construction, simple installation, suitable for any conditions.Decorative protection in the later stage without maintenance.
(2) close to nature, green and environmentally friendly, effective protection of bird feathers and animal skin, effective prevention of rodents and other animals biting, to give birds a safe and comfortable living environment;
Baina stainless steel rope net is made of stainless steel wire rope of high quality and twisted by unique technology. It is widely used in wild zoo, zoo, Ocean Park and other similar environment animal cage, bird net, animal fence and garden decoration protection construction.In addition, the products are also suitable for sports, acrobatics, building decoration, bridge and scenic protection decoration, municipal construction and other fields.Welcome to consult us!