How much about animal cage stainless steel rope mesh ?
Time:2019-06-03
Views:229
Animal cages, stainless steel rope net, how much is a flat
Baina stainless steel rope net, stainless steel rope woven net, special cage for animal cages, stainless steel zoo fence, wire rope woven mesh, stainless steel metal fence common specifications are as follows: stainless steel rope diameter: 1.2-3.2mm, stainless steel rope woven mesh Hole length: 20mm-150mm, wire rope structure is multi-filament multi-strand, weaving process: pure hand-cross weaving, Cannes can customize the mesh size according to customer needs. In large-scale exhibition applications, wire rope nets have many advantages over other display fences. Secondly, we can also provide hot-dip galvanized steel wire rope products.
Cannes stainless steel rope mesh has the following advantages for bridge construction:
The tensile strength is large, firm and durable, and the stainless steel wire rope net is also widely used in macaque purse nets, macaque cage nets, long-tailed langur cage nets, long-tailed langurs purse nets, and other monkey cage nets. The steel wire rope net of Cannes adopts steel wire rope anchor or steel bolt and support rope fixing method to cover the metal flexible net on the slope surface with potential geological disasters, so as to realize slope protection or limit the slope movement range. network. Convenient material handling in the field, new protection technology and perfect construction application technology. The flexible protection network is suitable for any complex terrain without damaging the original.
1. Stainless steel rope net will not rust, corrosion, fatigue and impact resistance, and the overall structure is firm.
2. Good perspective, beautiful appearance, novel form, and become a big landscape.
3. Quantitative clear, soft and good, its service life is up to 30 years, no maintenance is needed during the period.
4. The size specifications can be adjusted freely without deformation.
5. The installation is particularly convenient. The stainless steel rope net can adapt to different environments and can be installed and installed on any structure.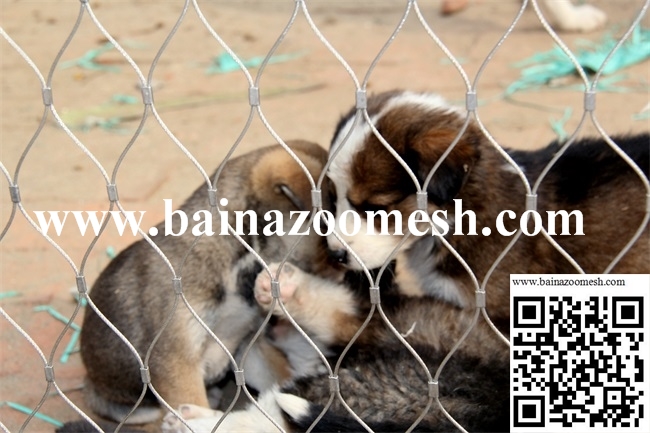 baina zoo cage protection nets include: tiger cages, tiger cage fences, tiger cage fences, stainless steel tiger cage fences, tiger fence nets, stainless steel tiger house fences, etc. Specifications are as follows: Material: SUS304/316 stainless steel wire rope diameter: 3.2mm mesh size: 5-10 cm stainless steel rope mesh for tiger cages, tiger cage fences, tiger cage fences, stainless steel tiger cage fences, tiger fence nets, stainless steel tiger house fences. Different types of Cargo system products, system components can achieve the standard distribution of goods.
After years of development, our factory has won the recognition of our customers with professional production technology, rich production experience and advanced production technology.
Since its official launch in 2013, Cannes Wire Mesh has not only led the development of China's stainless steel rope net industry, but also won several national patents, and the cooperation projects have spread over more than 100 cities across the country; while being favored by new and old customers, The location has attracted the attention of more people of insight in the industry, and has become a dark horse in the stainless steel rope industry.
Pang always said firmly: "From the details, deepen the spirit of the enterprise and improve itself, in order to satisfy customers; to satisfy customers is to achieve themselves!
The price of stainless steel rope net is determined by a variety of factors, raw material prices, labor costs, etc. can be affected, and some middlemen earn higher prices. Therefore, choose stainless steel rope net, you must polish your eyes, find Cannes metal wire mesh manufacturers, real factory direct sales,
Stainless steel rope net manufacturers www.bainamesh.com